1. Bill Gates ($81.2 billion USD)
Bill Gates
Bill Gates the richest man in the world. He is in top of the list, He Co-founded Microsoft and is one of the largest PC software company of the world. Technology Advisor of Microsoft, Co-Chairman of the Bill & Melinda Gates Foundation, CEO of Cascade Investment, Chairman of Corbis, Chairman of TerraPower. During Microsoft Bill was Chairman, CEO and chief software architect.
2. Amancio Ortega ($74.6 billion USD)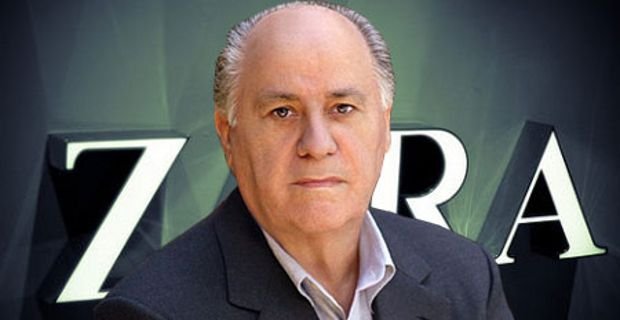 Amancio Ortega
Amancio Ortega is a Spanish Business magnate. founder and chairman of inditex fashion group, Known for its chain Zara clothing. He is the richest man in Europe & wealthiest retailer in the world.
3. Jeff Bezos ($66.3 billion USD)
Jeff Bezos
Jeff Bezos is a Founder, Chairman & CEO of
amazon.com
,
Amazon is world's largest online shopping retailer. Amazon is the fastest company which have reached $100 billion dollars in annual sales.
4. Warren Buffett (64.4 billion USD)
Warren Buffet
Warren Buffet is an American business magnate. He is a Chairman and CEO of Berkshire Hathaway Inc. He is considered as one of the most successful investor in the world, and consistently ranked one of the most wealthiest people in the world.
5. Mark Zuckerberg (51.3 billion USD)
Mark Zuckerberg
Mark Zuckerberg is an computer programmer, Internet entrepreneur. He is a chairman, CEO and co- founder of social networking site FACEBOOK. He ranked 5th richest person in the world. Mark has totally changed social networking platform by
facebook.com
6. Carlos Slim ($50.1 billion USD)
Carlos Slim Helu
Carlos slim is a Mexican business magnate and investor, he was ranked 6th richest person in the world. He is Chairman & CEO of Telmax, America Movil, Samsung Mexico & Grupo Carso.
7. Larry Ellison ($48.2 billion USD)
Larry Ellison
Larry Ellison is an American Businessman & Entrepreneur. He was a co-founder and former CEO of Oracle Corporation. Currently he is Executive Chairman and CTO of Oracle Corporation.
Ingvar Kampard is a swedish business magnate, He is founder of IKEA.
9. Charles Koch ($41.7 billion USD)
Charles Koch
Charles Koch an is a American Businessman and Political donor. He is Co-owner, Chairman and CEO of Koch Industries
10. Michael Bloomberg( $41.7 billion USD)
Michael Bloomberg
Michael bloomberg is an American businessman and Politician. He is a founder, CEO and owner of Bloomberg L.P.